Data has become an integral part of every business concern. Access to accurate data is difficult these days. Data collection service is the art of gathering information as per business requirements to create a database for survey purposes, analytics purposes, and updating current trends. Many global organizations need to collect data from clients, vendors, suppliers, customers, etc., and consolidate it into appropriate documents for future references and tactical decisions. Data collection service is a very important task from the business point of view as it successfully helps in the development of your business in many ways. Outsourcing data collection to an India-based service provider is a great option to save on budget and time.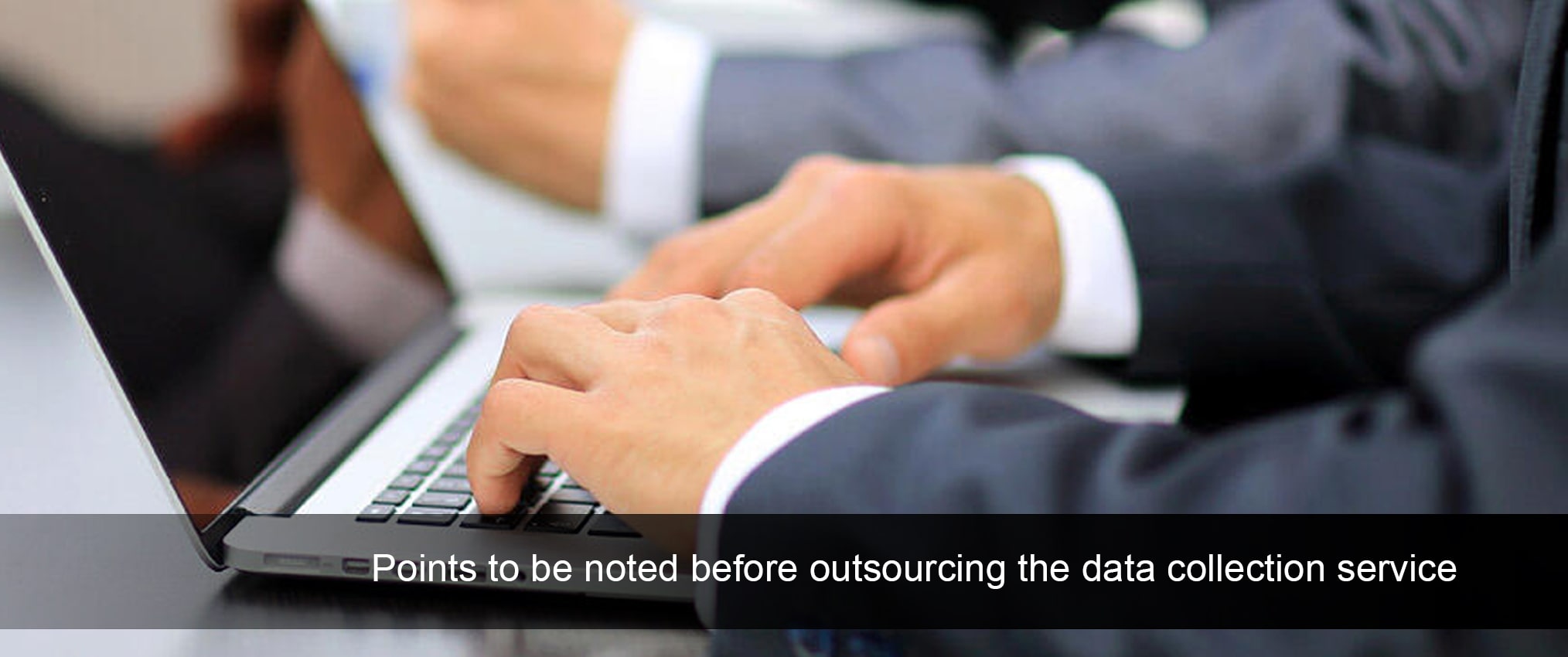 Getting the right partner to do data collection tasks is highly essential for a business firm to get quality enriched services at a cost-effective price. 
Points to noted before outsourcing data collection services.
Reputation
The first important thing you should check while outsourcing your data collection to a BPO company is the business reputation of that company. This is an important factor that every business should ensure before they plan to outsource their work. If businesses outsource their work regardless of the outsourcing company's track record, there is a high chance that your work will  produced with less quality, thus affecting the reputation of your business that you have effectively built over the years. Outsourcing enables business concerns to save an alarming portion of their profits, but a decline in service quality can result in the concerned business spending more money to maintain its business reputation.
High-level accuracy
Accuracy is very important when it comes to data collection. An immense level of consideration to accuracy is necessary as even the slightest error or mistake can cost a lot for the business concerns. Therefore, business concerns should make sure that their data collection works undergo quality standards when they outsourced to the outsourcing services provider. Accuracy in information is an effective tool to attract customers and will guarantee the consistency of the business.
Budget-friendly
Business concerns before outsourcing must ensure that the cost involved in outsourcing is within their budget. Outsourcing is the best way by which businesses can save on their cost by employing their in-house team and resources for doing such a less important task. Outsourcing comes about essentially increasing the profit of the business concerns. Thus outsourcing data collection works to reputed and cost-effective BPO services providers will be beneficial for the business in terms of saving costs and increasing their profit.
Data Privacy
The important thing to check before outsourcing your work is whether the concerned services provider is a person/firm that can be reliably trusted and maintains confidentiality in the outsourced work. Unknowns should be forbidden from capturing any unnecessary benefits from the business's crucial data. There are plentiful data that the business contains that encloses countless impacts and requires protection support. So before outsourcing businesses should make sure that they have made a partnership with the right partner ensuring a high level of confidentiality in their work.
Timely Delivery
Lastly, timely delivery of work is an essential factor that every business looks forward to when they intend to outsource their data collection works. The need to get work done is very important for business without harming the quality of the work.Causing delays in delivering the work can affect the running of the business which is not good for a business that wants to flourish in this highly competitive business environment. So, before outsourcing businesses should ensure that they get their work done within the time prescribed by them without affecting the quality of the work.
Conclusion
Data Entry export has worked with numerous companies and individuals from various domains and industries.  We provide data research services and outsource data mining service which will enable you to outsource your requirements to all the concerned business which has the following membership which will enable you to progress to the business to reach greater heights. This is because I didn't like the way the same was explained to you and have a different kind of explanation for the various kinds of subsiding effects that was not told to you. After all, this will affect the overall functioning of the business which will have to be completed in various aspects.