The vital aspects of outsourcing Word processing services have favored business enterprises belonging to different industries and verticals. The assistance of a document processing company can enhance the presentable aspects of varying business documents with exceptional accuracy, and on-time, with their professional domain expertise.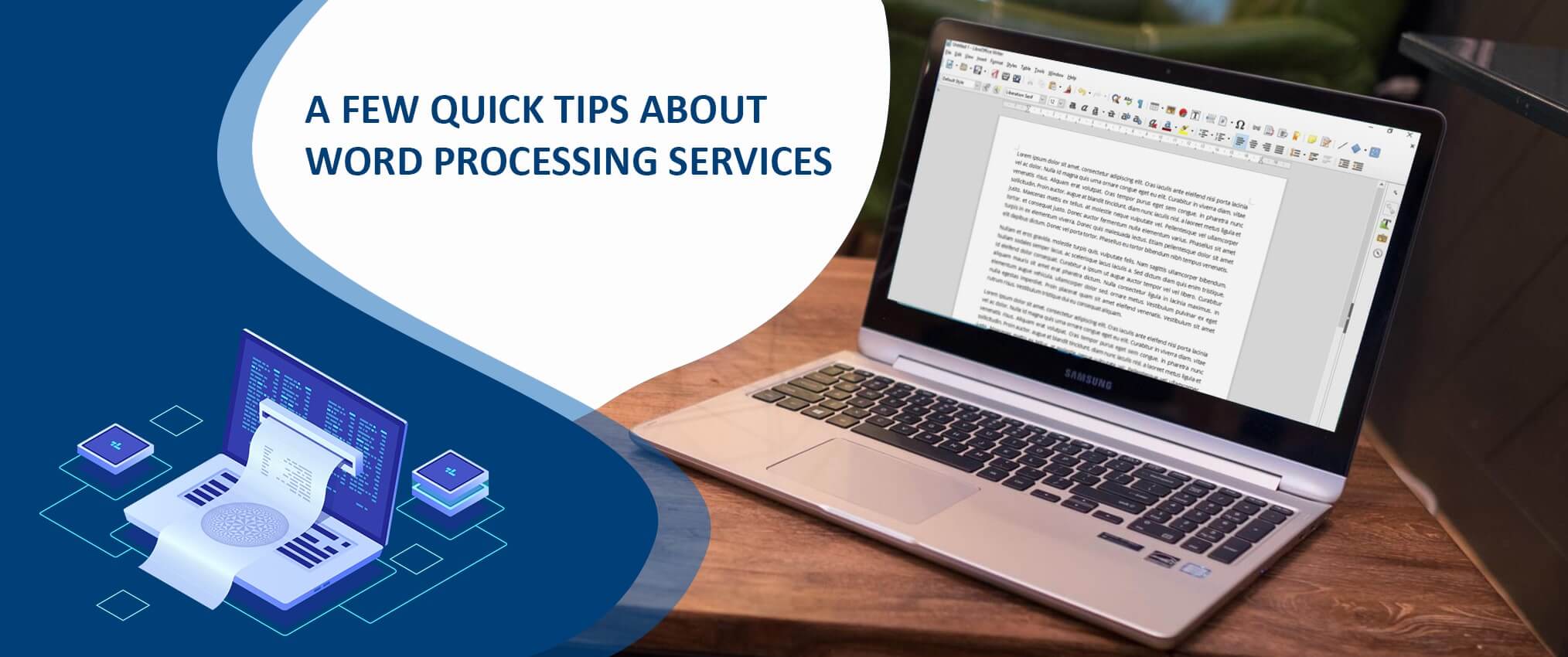 The most outsourced document formatting services are data extraction, data cleansing editing, data conversion, index preparation, table of contents creation, overall formatting, and more. The need for such professional services in the corporate realm ensure high document appeal for users that is perfectly presented and for easy information access.
Even though it is part of the offline data entry domain, the affordability and benefits offered by it are still of superior standards. The demand for it is so great due to the ingenious professionals, trailblazing technology, and working environment it leverages. The results are always quality assured, accurate, and help businesses power their core operations.
Although, there are certain things to consider before outsourcing Word processing services. The below tips will help you partner with the right outsourcing partner.
Industry/Domain Establishment
The deep domain/industry exposure of your chosen document processing partner has to be assessed with proven document formatting track records. You can do this by checking their clientele roster and the number of projects they have completed. Also, find out if they provide excellent project scalability options that will meet your desired criteria.
Talk with the management, to-be-assigned project manager(s), and accompanying personnel, their qualifications, and extensive project accomplishments.
Technical Expertise
When assessing the same you should find out whether the company in consideration is worthy of a potential long-term business relationship. Assassin their workflows, project management, issue resolution skills, and quality control methodologies will help you understand their technical expertise in offline data entry.
References and Project Samples
Ask for document processing references, feedbacks, or project samples/prototypes from their past clients to know their diversity in offerings. It will also help you gauge their service and knowledge spectrum, project scope, service quality provided to clients, and how well they have tackled challenges during the partnership.
You could do this by referring to case studies on their website to get an idea about their capabilities. Before fixing a partner, always do a trial or sample test run, which is the most effective way of gauging all these.
Communication and Client Management Systems
Ensure that the outsourcing word processing services provider have multi-channel client communication and management systems. State your business objectives and project expectations, clearly and precisely to them. If everything falls in line, it means you will receive regular/periodic communication and updates from your partner regarding your project, at your convenience.
A single point of contact is ideal for this to clear your queries, address feedbacks or concerns of any kind so that the information exchange is always smooth between you too.
Technological and Infrastructure Competence
Always evaluate the outsourcing company's technological and infrastructural assets by paying a visit to their premises. Make sure they are of the latest and most advanced so that your project will not face any hiccups and are efficiently done as per claims. It will also help meet your needs and demands at any of the project phases.
Project Cost
Make sure there aren't any hidden costs in the proposed project quote and that it assures you the maximum cost-effectiveness through the entire package. Fixed project costs are always reliable and will save you from any hassles in the future normally encountered with hidden costs. Even when everything is decided, do a final confirmation on the same. 
Assess the Human Resources
Just like you paused a visit to the outsourcing company's premises, evaluate the workforce that performs offline data entry projects. Analyze their vendor workforce, and see how efficient are their hiring policies. Check on their process workflows, so that you get much better information about their technical skill sets, domain knowledge, their process order, and more that is needed for your organizations.
So, while partnering with an outsourcing word processing service provider, consider the above-mentioned tips for a healthy business relationship and the welfare of your company in the long run.