Outsourcing has become the norm among businesses across the world. From data to calls, everything is managed better by outsourcing to competent partners. More than often, outsourcing is preferred and proven more effective when the requirement is rare, the right expertise is difficult to get or when the cost-factor of an inhouse team is not favourable. Whatever be the reason, for most businesses, outsourcing proves to be very effective in terms of cost and quality. Businesses typically outsource excel data entry among many other data-related processes to competent outsourcing partners for the same reasons listed above. Outsourcing becomes a successful option when it is taken after considering certain important aspects. Here are some key factors to consider before outsourcing excel data entry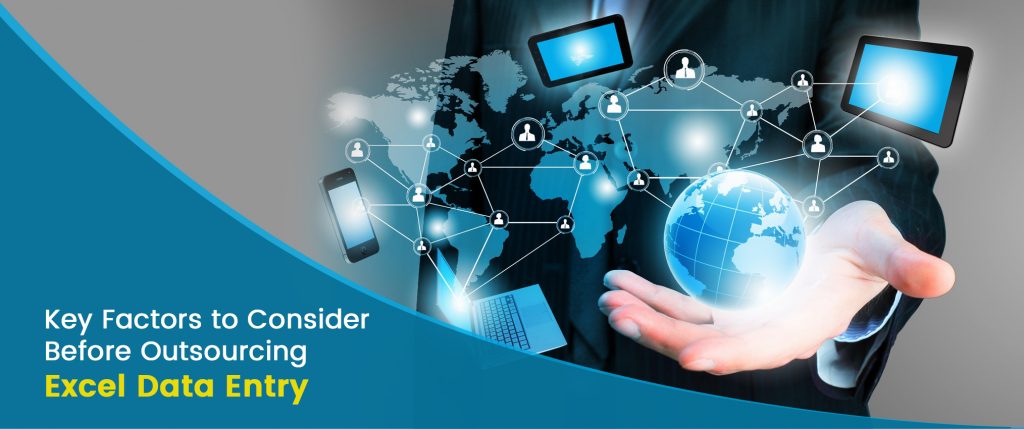 While choosing an outsourcing partner, make sure that they are experienced enough handling the specific requirements your business has. Domain experience and industry experience matter significantly when it comes to dealing with quality data. Hence, never compromise on your outsourcing partner's experience aspect. Experienced firms can deliver better quality within short time as they will have a well-defined process flow.
Scalability is a critical factor to be considered for all businesses. The right excel data entry service provider should be able to cater to the best and worst seasons without delays, downtimes, quality compromise and increase in cost. This is possible when the outsourcing firm is experienced, have a wide range of resources and have invested in the right technologies for excel data entry.
What the client asks for can neither be predicted nor restricted. At a time when market competition is increasing, companies have to cater to their clients' demands without fail, lest it becomes an opportunity for their competitors. Moreover, well-established businesses cannot take risk with their reputation. For all these reasons, businesses better look out for an outsourcing partner that's flexible enough to accommodate their varying requirements that cannot be pre-planned. Experienced firms that are scalable will usually be flexible.
While dealing with data, its security and privacy are critical elements. Especially so at a time when most businesses deal with data online. The increasing incidents of hacking and phishing call for strict cybersecurity measures to ensure that business data and client data are safe. This can be achieved only by investing on the latest tools and technologies for security and these tools come quite expensive. Since the outsourcing firm would invest on these tools and use them on multiple projects, the cost would not affect any specific firm.
Make sure you get even the best data entry company to share some sample work with you. In case, they don't have a similar sample to share, owing to privacy issues, you can get them to work on some sample data and evaluate the same before you finalize the vendor.