For every business, data is a very important asset. When it comes to financial institutions, accurate data is the most important asset because they deal with a lot of numbers that decide the fate of other businesses. Data entry in financial institutions is a meticulous task as they have to manage bulk data as well as ensure precision in data. Financial institutions, small, medium & large, consider outsourcing data entry services due to the multitude of benefits they offer to the business. Even though every business benefit from outsourcing, the financial institutions gain more from outsourcing due to the following reasons: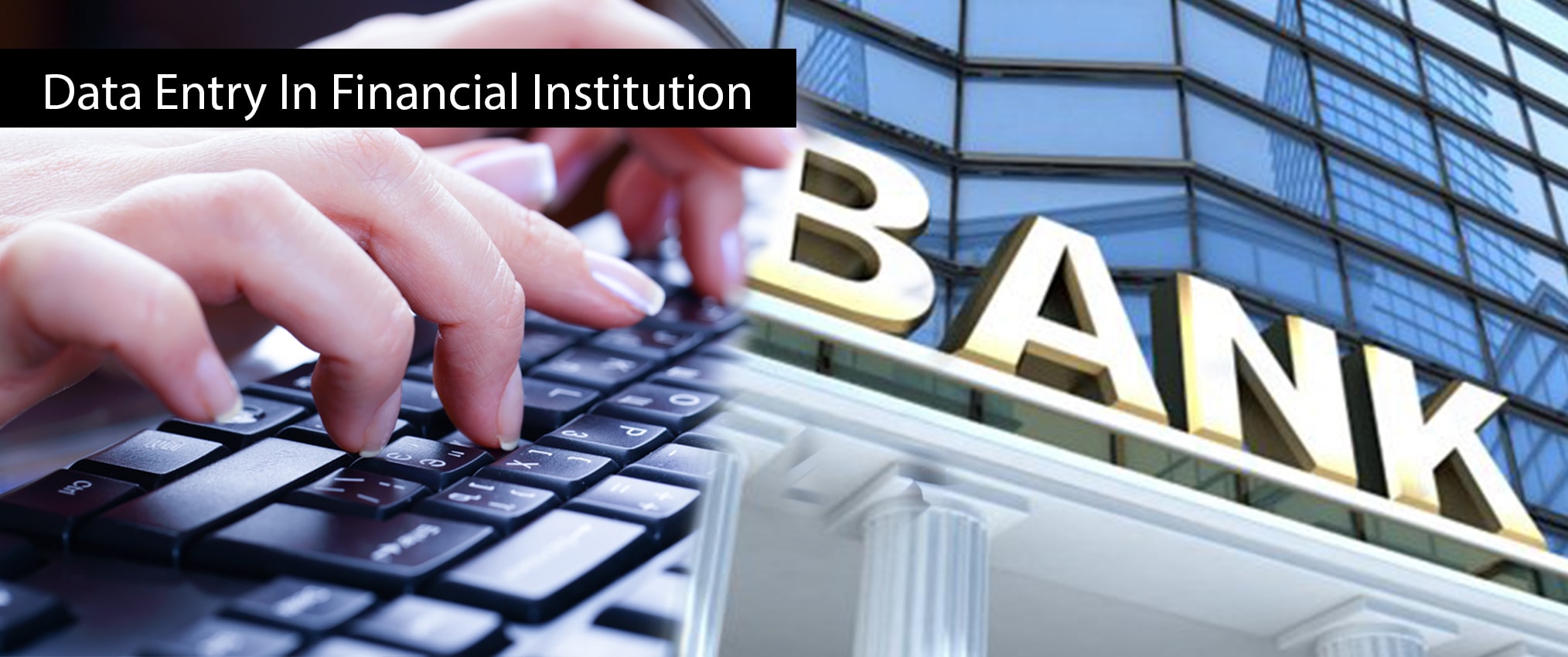 Financial institutions often face urgent requirements of bulk data input, in terms of accounts and journal data entry. Managing bulk data is a challenging and meticulous process as such. When it comes to financial institutions, it would involve bulk data entry of financial transactions which would amount to huge volumes in terms of data as well as its money worth. It is hence, very critical for financial institutions to outsource data entry services to deal better with bulk data entry requirements on a regular basis.
Maintain Data Accuracy & Precision
The data pertaining to financial institutions need to be accurate and precise. Even the smallest mistake can reflect exponentially which would lead to huge losses for the business and reputation damage. Typically, bulk data entry comes at a cost of compromised data quality and speed. With a competent outsourcing partner, the financial institution can ensure accurate and precise data which is reliable and secure.
On-time Data Availability
Financial institutions need data on demand. Every single transaction needs to be recorded in real-time. This would need a dedicated team of data entry professionals in-house which is highly expensive and difficult to manage all the time. When financial institutions outsource Data Entry services in India they gain from the expertise and speed of the outsourcing partner's resources thereby ensuring on-time availability of data.
Data In Precise Formats For Specific Purposes
Like every other business, the financial data also needs to be presented in specific formats for different purposes. As the data deals with money, most of the times, such institutions will have to file a wide range of documents and data in different formats to various government authorities. The outsourcing partner will offer quality data in different formats as required.
Financial institutions have to present certain critical data in standard formats. Journals, accounts, balance sheet, profit & loss accounts, and other important financial records have specific formats which they have to mandatorily stick to. The formats may change from country to country. Data Entry Specialist India can help businesses with the right formats for a specific location and business.
Outsourcing data entry is a commonly accepted method by businesses to save on cost of establishing and maintaining an in-house team. An accomplished outsourcing partner will prove to be the biggest asset for the business as they will be proactive in providing the right services required by the business at the right time without compromising on the data quality.